SIP Trunking is a method of operating phone systems using an internet connection instead of a traditional phone line. SIP (Session Initiation Protocol) Trunking works on Voice Over Internet Protocol or VoIP phone systems. Let's break down this complicated sounding system to better understand how it can actually simplify and improve business function.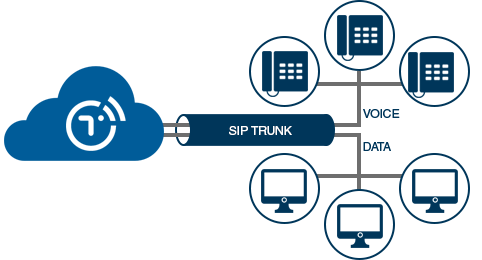 SIP is installed directly over your business's existing internet connection. Because it is digital, there is no hefty or convoluted equipment to deal with. SIP eradicates the need for old-fashioned landline phones that have multiple phone lines. Hosting over the internet reduces the amount of slips in call quality and time spent on costly repairs.
The "trunk" in SIP Trunking refers to a dedicated line that connects switching equipment. Unlike traditional analog phone systems, this trunk is completely virtual. The connection is made over a line used exclusively for SIP Trunking or over the Internet on a VPN or virtual private network.
SIP Trunking brings flexibility and exceptional performance to the office environment. It is a cost-saving move that provides transparent customer communication and easy call-routing. This is a great choice for complex business models that are expected to scale quickly, as no technician visit is needed to handle increased call volumes or add new lines and extensions.
Another powerful benefit of SIP Trunking is the riddance of purchasing BRIs (Basic Rate Interfaces), PRIs (Primary Rate Interfaces), or local PSTN gateways. SIP also turns all calls into local calls so long-distance charges are significantly cut. This can drastically reduce what the average business spends in telephony costs.
Improved productivity, increased reliability, streamlined communication and an overall reduction of call costs just scratch the service of what SIP Trunking can do for your business. Contact Telecom Metric to find out if SIP is the right solution for you!