The Cloud is a system for data storage and management that eliminates the need for hardware. This system allows data to be stored and transferred seamlessly over the internet. For business owners, cloud technology has become the ultimate time-saver and efficiency-booster.
This system began in the 1990s when it started to replace popular "point-to-point" data circuits as a faster, more powerful alternative. The name 'cloud' was spawned from program developers who drew bubbles and clouds to illustrate the concept of internet storage.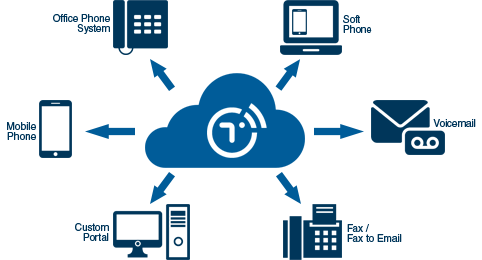 PBX stands for public branch exchange and it is a call-routing technology used by most offices. Traditionally a PBX was a large, manually operated piece of hardware that took up space and cost a lot of money. Today, there is Cloud PBX. This internet technology directs calls smoothly and performs the same tasks without the need for burdensome equipment or employee effort. And unlike its antiquated ancestor, Cloud PBX can be accessed and managed from any authorized device that is connected to the internet.
An office must have VoIP or other Internet Phone system already set up in order to use Cloud PBX. It is a practical choice for businesses of all sizes and specialties as it is customizable for all needs.
Businesses have responded well to Cloud PBX technology and its predictable service and rapid speed. It provides a clear connection without lagging response times or slips in the quality of phone calls. A cloud system has a lower risk of running into operational issues, which allows businesses to spend less time fixing bugs and more time on important endeavors. The cloud enables businesses to scale with ease by adding phone lines and extensions without any hassle. In the case of an emergency, the cloud ensures that your phones stay operational so communication will never be lost.
Using a Cloud PBX system can solve a lot of problems that businesses face with more out-of-date PBX services. The cloud is the future of business, and Cloud PBX is the future of telephony!