SIP Trunking
Bring your telephone and data networks together.
What is SIP Trunking?
Session initiated protocol (SIP) is a signaling procedure widely used for controlling communications, like voice calls and video calls over the internet. SIP trunking is a technology that delivers local, toll-free, domestic and international long distance service. SIP Trunking uses voice over IP (VoIP) to connect your Cloud PBX between the internet and the Public Switched Telephone Network (PSTN). SIP trunks allow for quick, flexible and cost-effective scalability, as opposed to the traditional PRI or analog lines which are slow to scale and costly.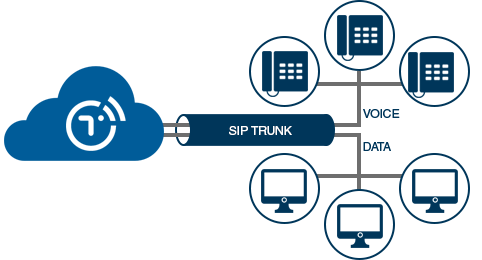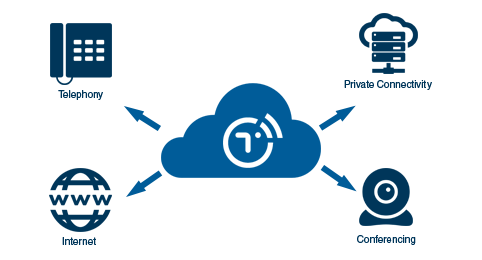 Advantages of SIP Trunking
SIP Trunking allows for advanced collaboration and conferencing applications, and simplifies the overall support, capacity management, and evolution of a consolidated voice and data network. Since SIP Trunking is so flexible, moving offices and keeping the same number is hassle-free and easy. In addition, all calls are local calls so even an international call is often carried over the internet at no additional cost. As Canada's most reliable SIP trunking provider, Telecom Metric will work with you to keep your business connected and supported at all times.
3 Methods of Authentication
Arrow pointing into a border icon
SBC
Bring your telephone and data networks together.
Private Interconnectivity
Private Interconnectivity is the consolidation of voice, video, data, and even instant messaging onto a single bandwidth pipe that allows organizations to connect multiple sites together as one optimized and secure network. This allows for private and secure transfer of data between sites and/or service providers.
One Connection
SIP trunking reduces costs by eliminating the need for separate voice and data connections by using them both together in a single connection. A single SIP trunking account can serve an entire enterprise, regardless of size.
Keep Your Number
SIP trunks are not bound to one, physical location, which makes it easy to move offices without having to inform your customers or update your contact information. No need to update your business cards!
Flexible
Experiencing an increased number of calls? Add more channels almost immediately with just one quick phone call. Without SIP Trunking, a business would be subject to upgrading their Private Branch Exchange (PBX) in addition to experiencing a delay while additional lines are installed.
Reliable Service
Never miss another call. In the event of a power failure, extreme weather, or other events that would normally incapacitate a traditional phone system, calls can be re-routed automatically via Telecom Metric's multiple datacentres across Canada.
Rapid ROI
SIP Trunking doesn't require a substantial capital expenditure to acquire and almost immediately reduces costs while maintaining all of the features your customers already have. No more need to pay for extra equipment or services that are not being used in the first place.
See how SIP Trunking can help your business.
Setup a meeting and save up to 53% on your phone bill!