Cloud PBX
Connect your business without the costs of a traditional phone system.
What is Cloud PBX?
Cloud PBX is a Private Branch Exchange hosted within the cloud that an organization connects to via a router and dedicated high-speed connection. There's no on-premise phone system for you to purchase, install, maintain or upgrade because Telecom Metric hosts it for you. Most Cloud PBX's and the phones that are associated use the SIP protocol, a communications protocol used for signaling and controlling multimedia communication sessions.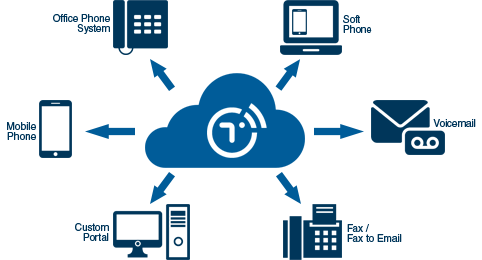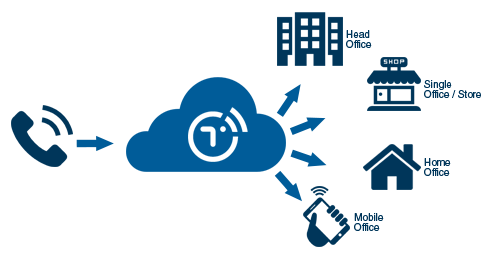 Why Choose Cloud PBX?
PBX phone systems are much more flexible than proprietary systems. Therefore phones will not need to be connected physically to the CPBX since it doesn't require a free port. As a result, individuals and teams are able to connect seamlessly from anywhere in the world; whether it be via desk phone, smartphone, in a different country or on the road, your business will always be connected. Companies can leverage the CPBX's diverse feature set to transfer calls, create conference calls, have an automated attendant direct callers, and many more.
User with a checkmark beside it icon
Credential Protection
Secure FoIP (fax over IP)
Cloud PBX allows businesses to have a sophisticated telephone system without the investment.
IVR Authentication
Ensure that each and every call received is directed to the proper person. With IVR Authentication, your business has the ability to tailor services based on caller identification and authentication. Callers can be given the options such as request a callback, use an automated service, or wait in a queue.
IVR Auto Attendant
Save your company money and shorten call queues by using the IVR Auto Attendant. In addition to routing calls, an Auto Attendant can also handle automated tasks that involve user input like entering credit card information, completing a customer satisfaction survey, or utilizing a Dial-By-Name directory.
Enhanced 911
When placing a call to emergency services with E9-1-1, your telephone number and location are automatically transmitted to the operator during the call. When both of these features (location and telephone number) are provided and transmitted, that is what makes E9-1-1 "enhanced." The attendant then determines the appropriate agency and transfers the caller to that agency.
Compatibility
By implementing the proper standard protocols and codecs, we've ensured that our services will work with the majority of devices and software available. No need to purchase another phone system!
Multiple vertical bars increasing in height from left to right
Scalability
Cloud PBX is nearly infinitely scalable and grows one user at a time. With Cloud PBX, businesses can add or remove lines and extensions as they grow with minimal to no cost at all.
Cost Savings
No need to make a large investment for your phone system, it's already being hosted! Cloud PBX can eliminate installation and maintenance fees since an in-house specialist doesn't need to be hired to operate and maintain the PBX.
Need more Cloud PBX information?
Ask the right people the right questions.