Softphones: What Are They? Do They Replace My Existing Phone?
A VoIP softphone is a program or app that behaves like a traditional telephone, with the key difference being that you can place and receive calls over the internet. Softphones are more than just digitalized telephones. They are continually helping businesses become more powerful.
Let's explore how Softphones can steer your company in an innovative direction!
How Do Softphones Work?
Softphones run on devices such as computers, tablets and smartphones. Most work in conjunction with a headset and microphone, All Softphones have a basic interface with a key pad and control buttons for call management. Those that are designed for business will typically have a lot of features loaded to their interfaces.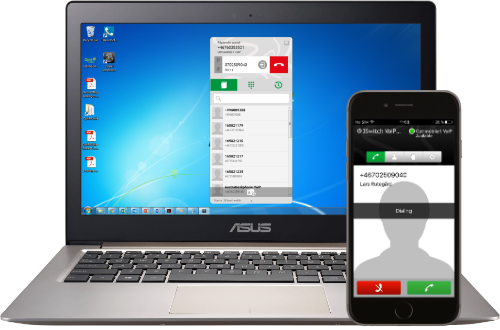 Softphones come equipped with a set of codecs to ensure that voice data is transmitted smoothly between analog and digital formats. The quality of a service that runs over the internet depends heavily on the quality of the internet connection, so Softphones require a robust, high-speed network for optimal performance.
Deploying Softphones means that your traditional phones may become obsolete. The mobility of Softphone devices allows employees to do business outside of the office walls. Many workplaces with younger, on-the-go staff prefer this method of communication.
How Do Softphones Benefit My Business?
Cut Costs

With Softphones, you are paying in bandwidth rather than minutes. This makes both local and long-distance calls less expensive so you never feel that your calling capabilities are constrained.

Filled with Features

The features available through internet-based telephony can not be compared with legacy calling systems. Voice conferencing, video conferencing, easy call recording and HD voice are just some of the multitude of features that exist in the Softphone universe.

Low Maintenance

Landline phones take up more space, require more maintenance and are bothersome to move if your office decides to relocate. With Softphones, installation and maintenance are simple and streamlined.
Is your office is still using a legacy phone system and you're ready to leave it behind? Our experts would be happy to help you make the right decision for your unique business needs. Give us a call today!